Everyone wants the most fantastic wedding photography, right?
Wedding photos that portray you and your partner as super romantic stars in love, while also beautifully portraying family and friends.
You will mainly find that one unique photographer through the portfolio.
Professional wedding photography where every photo is taken with a lot of love and passion.
I make small works of art that form a unique memory and this fixed forever.
My photos radiate a kind of hushed tenderness.
I love to create meaningful images where you can let your own feelings and emotions get lost in my photos.
I myself am someone who sincerely loves life with all the ups and downs that come with it.
A dreamer, I like to get lost in my own thoughts and I also bring this to life in my photography.
If you are looking for a wedding photographer in Belgium, the Netherlands or far beyond, then you have come to the right place.
MY MISSION
As a wedding photographer, I am 100% responsible for delivering unforgettable memories of your day.
Marriage is one of the most important milestones in the couple's life.
Not only the shared moments, but also the close-ups of the moments that are otherwise so quickly forgotten.
I strive to create a style for each individual couple.
I do this by carrying out a thorough preparation and planning process before the start of the big day.
A BUNCH OF ENERGY AND ENTHUSIASM
DRIVEN! If I had to pick one word that best describes my way of working, it would be 'driven', at least it's the word that describes my emotions during your unique marriage.
"When you've found your 'lid'."
This young couple lives in beautiful Zoetermeer with their 2 children.
When they contacted me to photograph their wedding, I immediately felt the love between them. The butterflies in their stomachs could clearly be felt on their big day.
A wedding day taken care of down to the last detail, this was the wedding of Denise & Harald in the Dutch Bunschoten.
As a Belgian photographer I was of course honored to be able to capture their memories.
A day that neither she nor I will soon forget.
Love... is just a word until someone gives it the right meaning.
When I got to know this couple from Eeklo, there was an immediate click.
When I learned that they wanted a themed wedding, it clicked even more…
They have used The Great Gatsby as a source of inspiration for the theme of their wedding.
A day full of spontaneity, laughter and lots of love!
After 10 years of marriage, this couple from Antwerp decided to relive the feelings of their wedding day.
They called on my expertise to make this day a very special photo shoot, this time with their children.
A more than successful afternoon in the beautiful Hallerbos.
THE TRUTH VISIBLE IN EVERY PHOTO
Aaaah, my hobbyhorse; 'the truth visible in every photo'
With this couple this was visible all the time without exaggeration.
The sincere love between the couple, but also between the friends, there was a close bond.
From the ceremony to the end of the photo shoot I was able to enjoy all that love and friendship around me!
BEAUTIFUL COLORS TO MATCH YOUR WEDDING
On a beautiful late summer day in Ghent I was allowed to capture the wedding of this young couple.
Together with their children we went to some industrial sites in Ghent.
A beautiful color palette suitable for the month of September.
Location: Kapitein Zeppospark - Gent
FROM MAKE-UP TO EARLY MORNING
When I was asked to take care of the photo report of this lady, it was a great honor for me.
From the make-up to the end of the photo shoot, I especially enjoyed her professional appearance as a model.
A creative photo shoot in the MAS museum in Antwerp.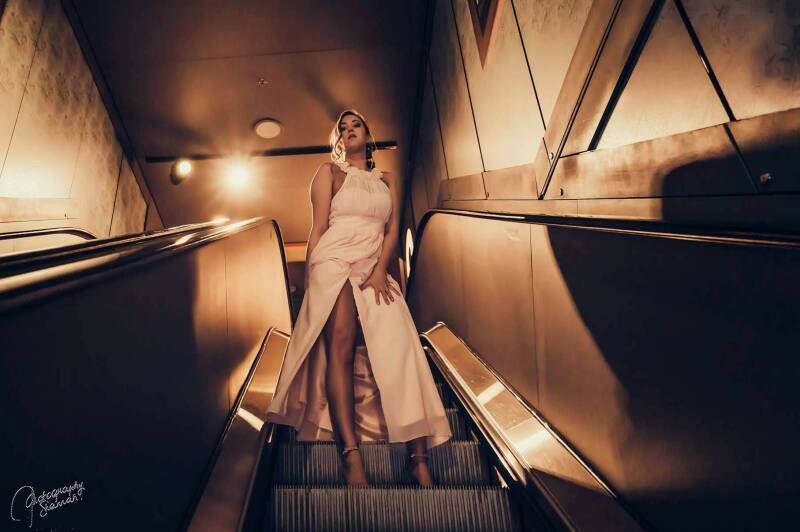 Location: Het MAS museum - https://mas.be/
The MAS is more than just a beautiful building with countless impressive objects.
Discover here what makes the museum so unique and how it works
AS A PROFESSIONAL WEDDING PHOTOGRAPHER I NOTE ALL EMOTIONS
A beautiful summer day, a beautiful couple and a very nice entourage, what more could you wish for as a photographer?
A memorable day in so many ways.
Humor, tenderness, wonder, fun, love it was all there!
Aaah, the love... My heart melts every time photographing a (still) couple in love.
Different outfits, different locations. A very varied engagement shoot that never bores and then also in a place where peace and harmony are central, the Damvallei in Gentbrugge and the Van Beervelde Castle.
As a true nature lover, I am always open to discover new places!
Location: Het kasteel van Beervelde - https://www.parkvanbeervelde.be/nl
The Park van Beervelde, a 25-hectare private domain, is happy to receive you in its atmospheric Coach House, where the various rooms are located around a cozy courtyard. There is a spacious private car park close to the rooms.
YOUR WEDDING PHOTOGRAPH FOR A WHOLE DAY (AND NIGHT)
Even in the darkest places I always look for that strip of light that warms the hearts.
Location: Feestzaal Het Sparrenhof Eeklo - https://www.feestzaalsparrenhof.be/
Party hall Sparrenhof is located in a quiet area just outside the center of Eeklo.
The business is a family business that was founded in 1971.
They have been providing unforgettable parties for three generations.
What you can expect from me:
- A comprehensive, captivating report
- A beautiful overview of your day in black and white and/or color, depending on the situation, personal preference and the number of hours of reporting
- Professional post-processing i.e. attention to each photo
- Wall decoration
- Photo Printing
- Top service with an eye for quality
- Beautiful wedding albums, curated by myself and that will last for generations.
- Quality photos taken with professional material
Quality and customer satisfaction are my most important core values
Do you want the highest quality of photo prints, wall decorations and photo albums?
With me you have come to the right place, I strive for 100% customer satisfaction regarding the quality of your memories.
Photo prints are already available from : 0.42 euro/pc
Wall decoration is already available from 78.65 euros/pc
Premium photo books are already available from 175 euros/pc
All prices incl. VAT.
Definitely recommended!!
You choose Photography Shannah:
- You love impeccable quality.
- 100% commitment, attention and enthusiasm are a description of how I work.
- Originality and a touch of creativity
Photography Shannah is your wedding photographer for a whole day!